Updates
Aug. 31, 2021: The application portal for local governments to apply for their estimated allotments of the $435 million of the Coronavirus Local Fiscal Recovery Fund opened.
Aug. 27, 2021: South Carolina submitted the American Rescue Plan Act funding request for local governments.
Overview
Through South Carolina's share of the Coronavirus Local Fiscal Recovery Fund included in the American Rescue Plan Act (ARPA), the state will receive the $435 million funding available to Non-Entitlement Units (NEUs).
The federal government requires states to request the funds on behalf of local governments with populations less than 50,000. There are 254 South Carolina small towns and municipalities eligible to utilize the funding based on the defined federal requirements.
View the estimated funding amounts for the 254 entities.
To Begin the Process to Receive Funding:
The South Carolina Department of Administration developed a portal to allow local governments to submit certain required information and documents. The Municipal Association of South Carolina (MASC) is working with local governments to help them gain access to the portal.
To gain access to the portal, local governments will provide required information to the MASC using this link:
https://www.masc.sc/Pages/American-Rescue-Plan-allocation.aspx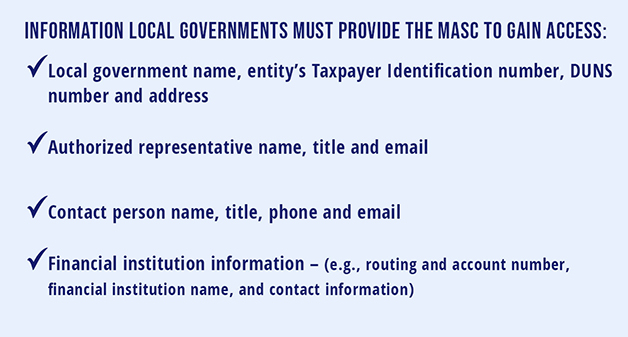 Once MASC receives the required information, the information will be uploaded to the portal. The local government will then receive an email with a link to access the portal.
A local government can begin the application process once access to the portal is granted.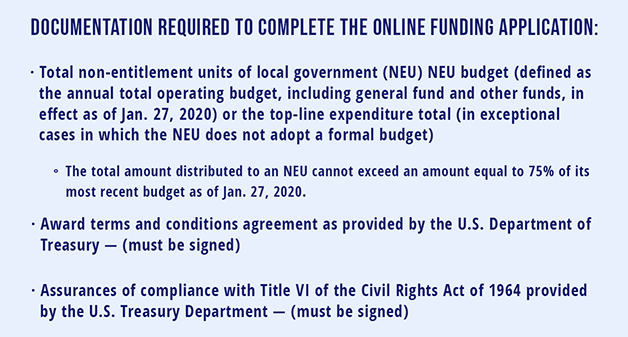 Resources
Registration Portal Instructions
View the American Rescue Plan's Coronavirus State and Local Fiscal Recovery Funds for Non-Entitlement Units of Local Government webpage.